In these years of unpredictable, and often extreme weather, there are only a few lucky farmers around who haven't dealt with down corn. You know how aggravating it can be to try to push through knocked over sections of your field, only to have the corn bulldozed into a pile, and you have to back up and drive over it, leaving good yield to rot on the ground. If you have experienced these problems, and you want to leave those memories in the past, Meteer Manufacturing's Corn Reels can help.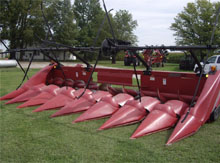 Our Down Corn Reels mount on your corn head, and the revolving fingers of the reel help to feed corn into your head, and prevent leaving good corn in the field. Although you can't go regular speed through your damaged corn, our reels will allow you to get through corn you normally would have lost, saving you money and yield.
Meteer Corn Reels are operated by a hydraulic motor and chain drive, and are built for years of hard work using solid steel fingers, not hollow square tube. Meteer corn reels also utilize rubber finger extensions that give you an extra 4-6 inches of reach down into the rows, without the risk of catching the steel portion of the finger in the snout of the head. Consider a Meteer Corn Reel as an addition to your equipment arsenal. You don't need to save too many acres of down corn to easily pay for the cost of a Meteer Corn Reel.